Most people know that October is Breast Cancer Awareness Month, but at CHN, we also celebrate Pit Bull Awareness Month.
A rescue group Bless the Bullys established Pit Bull Awareness Day in 2007, "as an opportunity to educate, change minds, and bring about positive media attention to pit bulls across the country all on one day." This year's day is October 26.
Expanded to the entire month in 2011, National Pit Bull Awareness allows shelters and rescue organizations to "spotlight the breed with adoption, education, and responsible ownership events in multiple communities and venues." Source
There are so many myths about pit bulls that are just complete bull (pun intended). These articles debunk many of the misconceptions, but I'll highlight a few here.

1. Pit bulls cannot lock their jaws. No dog can, of any breed.
2. Pit bulls do not have stronger biting power than other breeds. There is no scientific evidence to support that claim.
3. Pit bulls (which include the pure breeds of the American pit bull terrier, American Staffordshire terrier, and the Staffordshire bull terrier) are not inherently aggressive. On the contrary, according to the American Temperament Test, pit bulls and mixed breeds consistently score above the average for all breeds tested, year after year.
All dogs are individuals, and at CHN we have many happily ever after stories about our rescued pits. Here's one from Ashley:
Sidney girl is our CHN pit bull, and she is one of the sweetest, most loyal animals. Her favorite thing to do, besides cuddle, is perch herself proudly on our patio and watch over our [her] backyard, reminding our much older boxer when it's time to bark. She tolerates him trying to play rough with her like older brothers often do. We absolutely love having this strong, loyal, beautiful, and fiercely loving lady in our family. She comes running like a guardian angel any time we're rough-housing, just to make sure everyone is ok, and loud noises make her nervous. We taught our 4 and 8 year old to respect her domain, and the only concern we have is if someone were to try to hurt one of them, they'd better watch out. She has a goodness inside of her that is pure but also a strength that commands respect. The transition into our home was only a bit rough for the first few weeks as our much older dog and alpha male unwillingly learned to become a feminist, and she learned that she was home, where she would be safe and loved forever and ever.
Adoption story: Sidney was found in Baltimore with swollen milk ducts, having recently given birth, dehydrated and hungry, and had been hit by a car. Her two front legs were broken, and she was missing a tooth. Though I was beyond nervous to introduce an unknown pitbull to my 4 year old, I knew it was my job as a parent to teach her the respect Sidney would command and that otherwise, I had to trust my gut about her demeanor. When we met, she was wild out her cage, jumping everywhere and running all over the place and so much stronger than I anticipated, but I have the perfect backyard for an energetic dog and a lot of unconditional love to give for a happy dog. Turns out, she was only wild in that environment (dog smells and being caged). After settling in at home, she was the easiest, calmest dog, just following me around and watching over her backyard.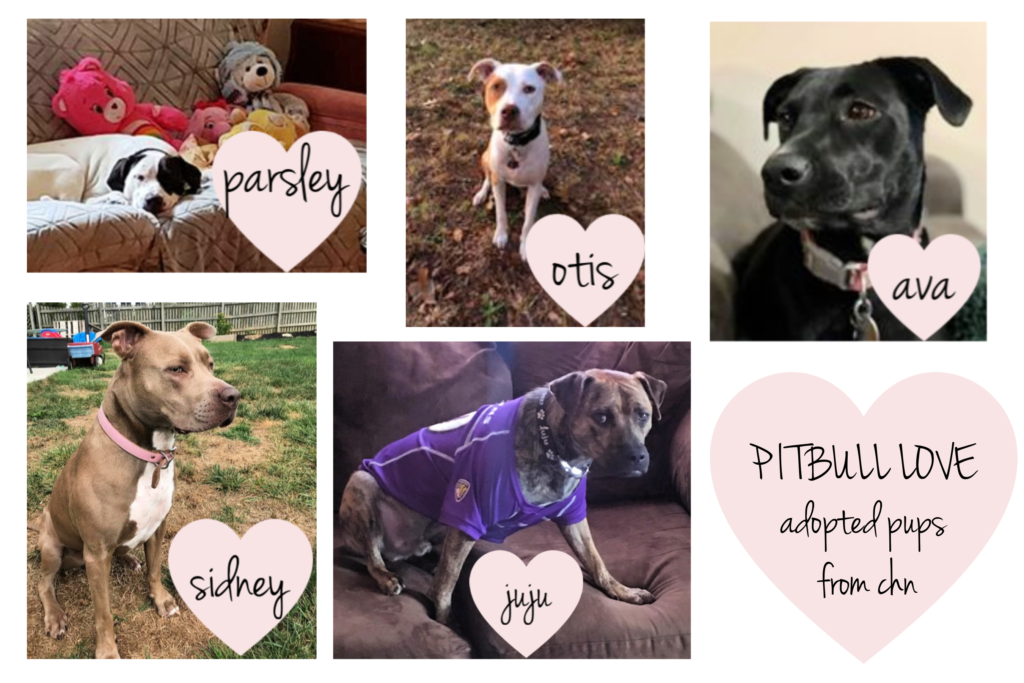 Like all dogs, pitties just want to feel safe and loved. They can be wonderful companions, and we are proud to help pit bulls of all mixes find their forever homes.
"The only thing inherently dangerous about pit bulls is an uneducated opinion."
*****