As a child of the seventies and eighties, I loved Halloween. I put on my plastic mask that obstructed my vision, grabbed my orange plastic Jack 'o Lantern candy holder, and hit the streets without a parent or a cell phone. I came home and sorted my candy, trading with my sister for the coveted 100 Grand Bar (You want my Bit-o Honey? It's yours.)
How times have changed. Pinterest demands creative costumes, allergy awareness influences treat choices, and the glow of iPhones illuminate the neighborhood as parents accompany their kids trick-or-treating. The family dog is often in tow as well. Consumer surveys estimate that 31 million people dress up their pets for Halloween. That's a lot of haunted hounds!
Halloween can be a dog-friendly occasion, but keeping dogs safe on Halloween requires pet owners to take precautions and be smart. A quick Google search reveals many potential dangers , but it's not difficult to be proactive.
Keeping dogs safe on Halloween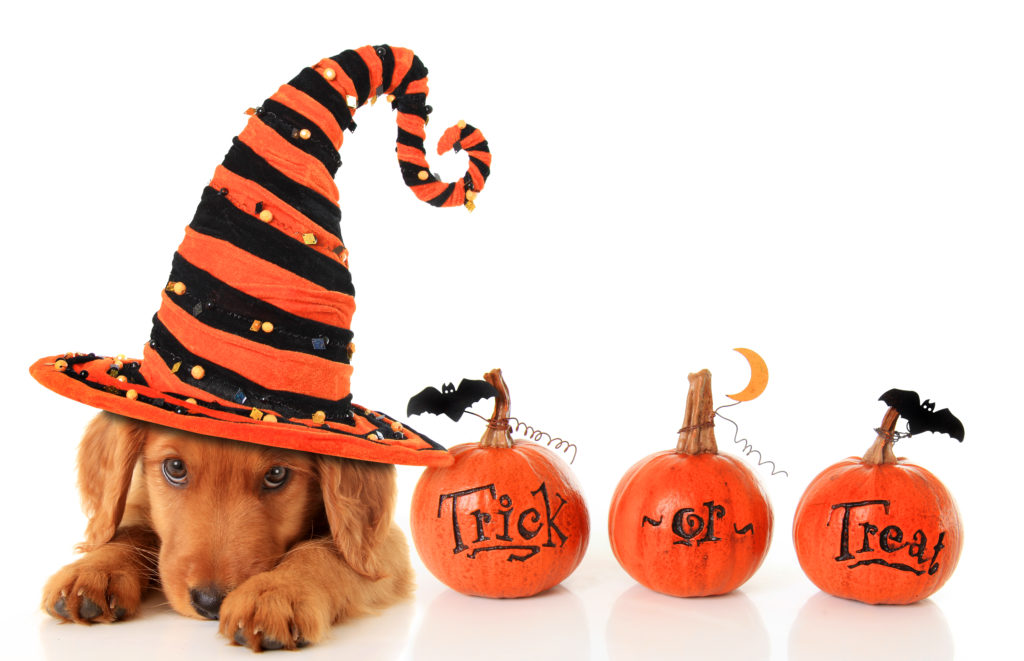 Chocolate is toxic to dogs, and the darker it is, the more poisonous. According to the Pet Poison Helpline, a fifty-pound dog can get sick from just one ounce of Baker's chocolate.
Sugary, high-fat candy is also a no-no. Pancreatitis may not show symptoms until two to four days post Halloween, so keep an eye on Fido. And remember that the sugar-free sweetener Xylitol is toxic to dogs
Grapes and raisins are poisonous to dogs. They are also unpopular with kids, so think twice before giving these as treats on Halloween.
If you dress up your pooch, make sure the costume doesn't impair his vision, movement, or ability to breath.
Keep those candles and jack o'lanterns away from curious pups and wagging tails.
Snack bags and wrappers are choking and suffocation hazards. Make sure humans of all ages leave candy and wrappers far out of reach of dogs.
Give your dog a safe place at home. Doorbells and consistent knocking may scare your dog, and the urge to make a run for it may be too much to resist. Keep her away from trick-or-treaters, both to keep her from bolting and for the sake of fearful children.
If Fido is joining you around the neighborhood, make sure he's visible to cars and other pedestrians. Reflective leashes, collars, or strips on costumes will help keep him safe, as will a firm grip on that leash!
If you feel like your pet is being left out of the fun, here are some yummy and safe dog treats you can have on hand for your pup. And if you have any leftover 100 Grands, I'm happy to take them off your hands.
*****